A TOUCH OF CLASS.
CHARGE EASY WITH GaN.
Most people who love minimalism are pursuing the ideology of simplicity and something out of the ordinary. VogDUO 100W GaN Charger is born to hit that challenge.
Not only do we use the Italian Genuine Leather to protect the charger, but also includes everything you need from fast charging to multi-port compatibility; from prolonged distance to cable management. The All-In-One design is here to fulfill your productivity and creativity.
NEVER BUMP YOUR HEAD AGAIN UNDER THE DESK
Have you ever felt tired of curling up and down, struggling for plugging or unplugging for devices from an under-table, behind-bed, underneath-shelf, or beside-sofa AC power socket? The century frustration is going to be solved now. VogDUO presents the 100W ultra-small GaN desktop charger with the exclusive 5ft (1.5m) extension cable, 4 USB, GaN Technology, and the premium Italian Leather cover.
NO STRUGGLES WITH SEARCHING SUCKET UNDER BED
We have all been there, it is irritating to grope the wall at night, trying to plug the charger into the outlet behind the bed. How about charging all devices simultaneously on your nightstand with the gorgeous leather design from now on? The high Watt design lets you easily charge a MacBook Pro, an iPad Pro, and an iPhone side by side while sleeping or working with the SideCar/ AirPlay function.
Now you can travel with only 1 charger for 4 devices. The ultimate mini size support Max.100W of power for fast charging your latest M1 Pro 14 inch MacBook Pro, iPad, and iPhone.
Our goal is to save most of your space and time for your projects. We deeply understand the suffering of carrying heavy laptops and accessories.
It is a journey to explore the possibility of creativity with users, every piece of leather has its own unique pattern, and it becomes tenderer and maturer over time. We carefully wrap up the product, so you can enjoy the journey from the very beginning.
Power Allocation and Specifications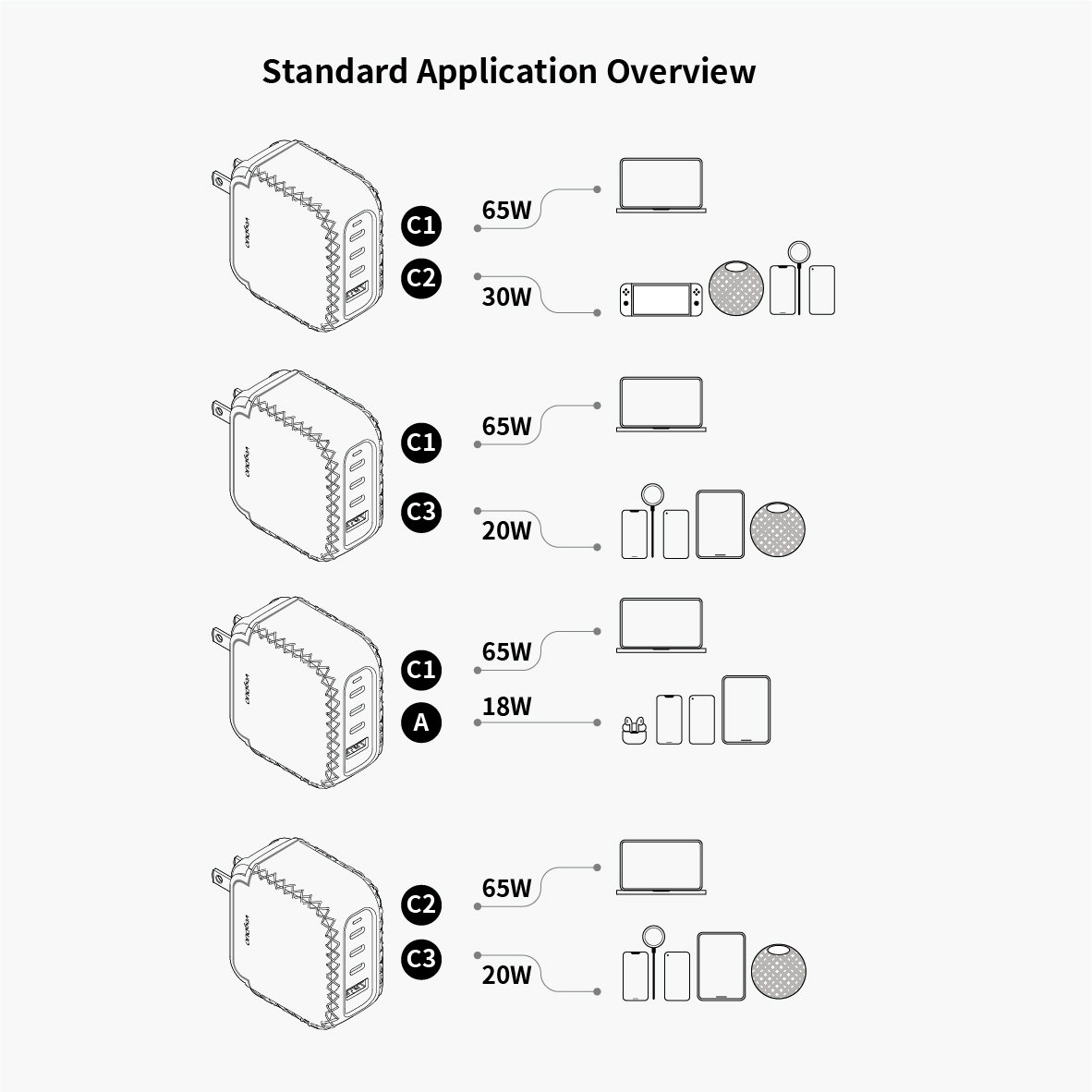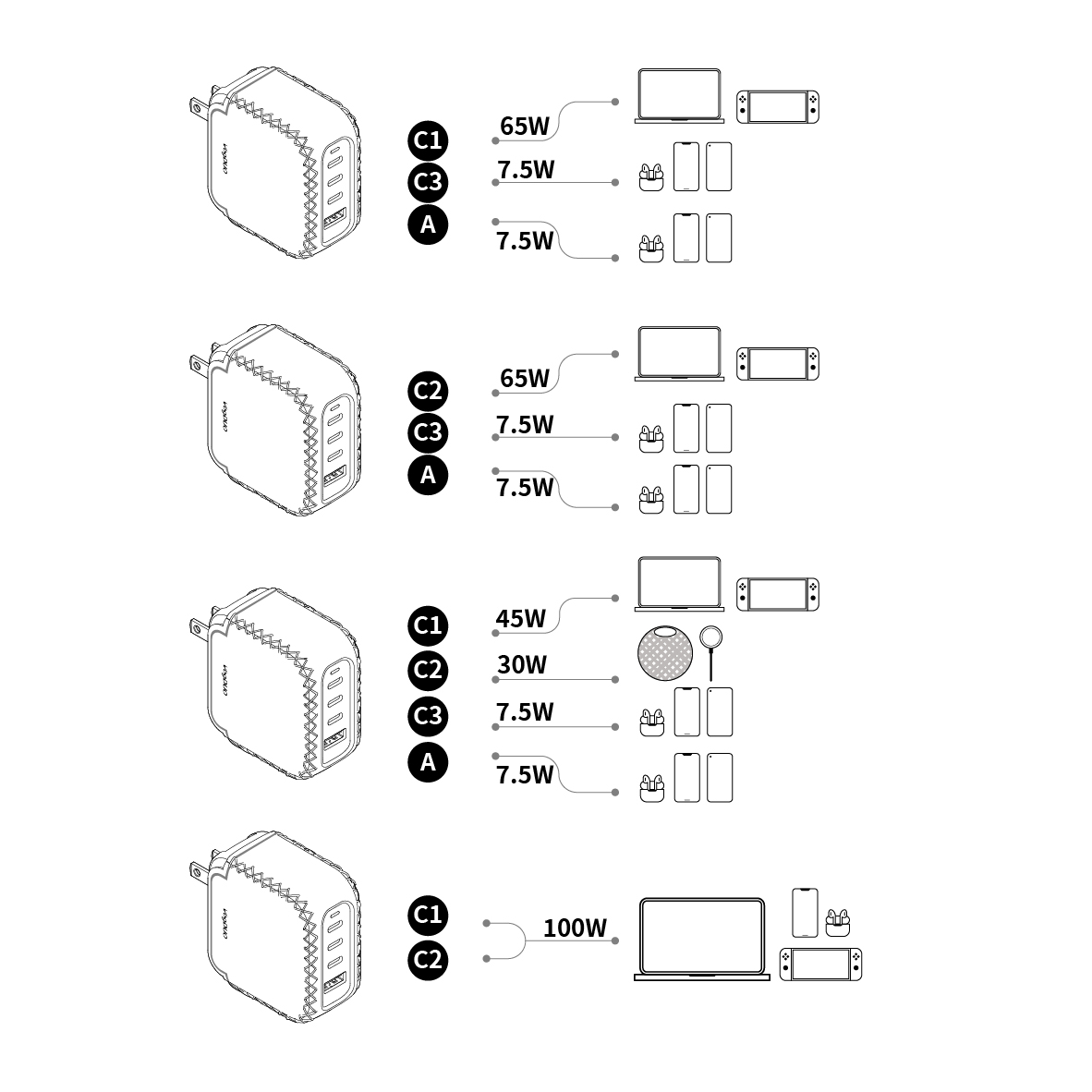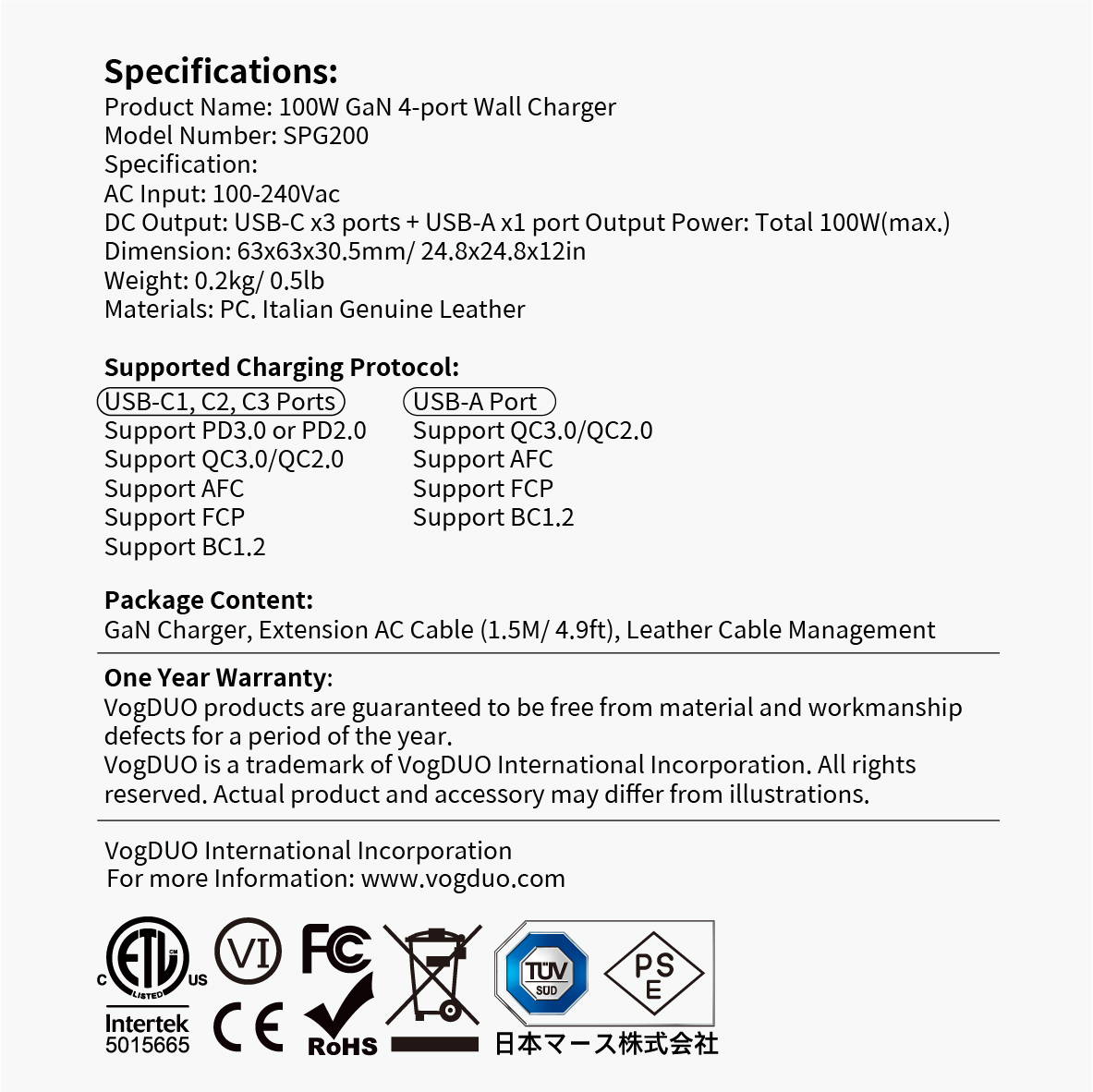 " All ports I require in one place. Simplicity.

The charger feels solid and it's compact enough to handle all my devices in a tighter spot. It totally charges my M1 MacBook Pro and iPhone 13 Pro. Good work"

" No doubt.

No doubt, this is the only charger you will need, it's incredibly beautiful and powerful. It even has the natural smell of leather, it's almost an art craft!"

" As advertised

There are 2 ports that can charge with 100W power and I am surprised by the quality of the handmade leather stitches, never seen before on an electronic accessory."

" Exceedingly well design

It is beyond my expectation to get such a small charger for all of my MBP, iPhone, Kindle, and HomePod mini. The extension cable let me change the cables right from the desktop. I love the design, it's like high-tech artwork on my table. However, in my opinion, if the cable could get just a little longer, it will be even better!"
We don't just sell Products

Make your dream working space come to life, with your personal GaN Charger.

We use the GaN technology and RoHS-passed materials to achieve the power efficiency and environmental friendly.

We ship every single order for free over $39 in the U.S.

Refund/ Return/ Replacement
You can reach us
here
anytime after purchase for any questions you might have.
Mac Models
MacBook Air (M1, 2020), MacBook Air (Retina, 13-inch, 2020), MacBook Air (Retina, 13-inch, 2018 - 2019), MacBook Pro with M1 Pro chip (14-inch, 2021)- Fast Charge, MacBook Pro (13-inch, M1, 2020), MacBook Pro (13-inch, 2020), MacBook Pro (13-inch, 2016 - 2019), MacBook Pro (16-inch, 2019), MacBook Pro (15-inch, 2016 - 2019), MacBook (Retina, 12-inch, Early 2015 – 2017)
iPhone Models
iPhone 13 Pro, iPhone 13 Pro Max, iPhone 13 mini, iPhone 13, iPhone 12 Pro, iPhone 12 Pro Max, iPhone 12 mini, iPhone 12, iPhone 11 Pro, iPhone 11 Pro Max, iPhone 11, iPhone SE (2nd generation), iPhone XS, iPhone XS Max, iPhone XR, iPhone X, iPhone 8, iPhone 8 Plus
iPad Models
iPad mini (6th generation), iPad (9th generation), iPad Pro 12.9-inch (5th generation), iPad Pro 12.9-inch (4th generation), iPad Pro 12.9-inch (3rd generation), iPad Pro 12.9-inch (2nd generation), iPad Pro 12.9-inch (1st generation), iPad Pro 11-inch (3rd generation), iPad Pro 11-inch (2nd generation), iPad Pro 11-inch (1st generation), iPad Pro 10.5-inch, iPad Air (4th generation), iPad Air (3rd generation), iPad (8th generation), iPad (7th generation), iPad mini (5th generation)
Windows Surfaces Series
Surface Book 3, Surface Book 2, Surface Book
Surface Laptop 3, Surface Laptop 2, Surface Laptop, Surface Pro X, Surface Pro 7, Surface Pro 6, Surface Pro (5th Gen), Surface Pro 4, Surface Pro 3, Surface Go 2, Surface Go
More Devices
DELL Latitude 7380/XPS 13/15/16; ASUS ROG zephyrus G14/Zenbook13/14/15; HP 15; HP Pavilion 11/13/15/ x360/ x360 14/x360 15; HP Envy 13/ 14/ 15/ 17/ Envy x360 15 Convertible; Lenovo ThinkPad X1 Carbon / X1 YOGA/YOGA 730/YOGA 910 /YOGA 930 / E14 / E15/ T490s /T495s/T480s/X270/X390/T470 /E490 / IdeaPad 3 /5 / Chromebook / Tablets; Samsung Galaxy S21 Ultra/S21+/ S21/ S20 Ultra/ S20+/ S20/S20 FE /S10/S10e/S10+/S9/S9+/S8/S8+ / Note20+/20/Note10+/10/Note 9/Note 8/ Note 7/Z Fold2 / Z Flip; LG V60/ V50/ G8/ G7; Oneplus 9 Pro/9/8T/8 Pro/8/7 pro/6T; Google Pixel 2/3/4/4a/5; Airpods / Airpods Pro / Apple Watch 6/SE/3; Surface Pro / 7, PS4, PS5, Xbox, USB-C headphone, Oculus, Nintendo Switch Dock.
Warranty period of the Product
General VogDUO warrants the Product to be free from defects in workmanship and materials for the Warranty Period, provided that the coverage of bundled accessories warranty may vary by different countries, please refer to VogDUO official website of the country of purchase for details.If the Product fails during normal and proper use within the Warranty Period, VogDUO, at its discretion, will repair or replace the defective parts of the Product, or the Product itself, with new or reconditioned parts or products that are functionally equivalent or superior to those originally supplied. This Warranty applies only if the Product was newly manufactured on the Date of Delivery and not sold as used, refurbished or manufacturing seconds. Please keep the proof of purchase and this warranty card for future service request. This Warranty does not include failure caused by improper installation, operation, cleaning ormaintenance, accident, damage, misuse, abuse, non-VogDUO modications to the product, any third party software programs, normal wear and tear or any other event, act, default or omission outside VogDUO's control.If the Product is under Warranty, You hereby agree to transfer the ownership of replaced defective parts and such parts shall automatically become the property of VogDUO.
Within 30 days from the date of delivery, in case of a problem that Faults List VogDUO service center defines a problem, and then you choose a free replacement, returning or repairing of a product.